Riley wanted to name her car "Lightning McQueen Girl" and we kind of convinced her that that name might have been too long. Evan came up with "Purple Thunder" instead. She wanted it purple and wanted zebra stripes.
So I painted my best zebra stripes! I even had to check out some zebra fingernails for some inspiration. It turned out pretty good for our first one.
We had to have the car weighed and measured to make sure we were within regulations for the race. How legit!
We did a few test runs. Unfortunately, poor little purple thunder couldn't even finish the track. So we had to rush home and get some things around the house. Like washers, pennies just to make it weigh more. Came back and tried it again. Voila! that did the trick!
Race Day!
I was surprised at how awesome some of the other cars were! People definitely take this seriously!
All the lovely trophies
The Crowd
The Track
How cute was this. They had to do a fun little drivers test. Riley had to read the sign to check her vision, they checked her height. Then she had a scavenger hunt around the room to find traffic signs.
Apparently when you pass the test you get a tattoo! Do they do this at all DMV's?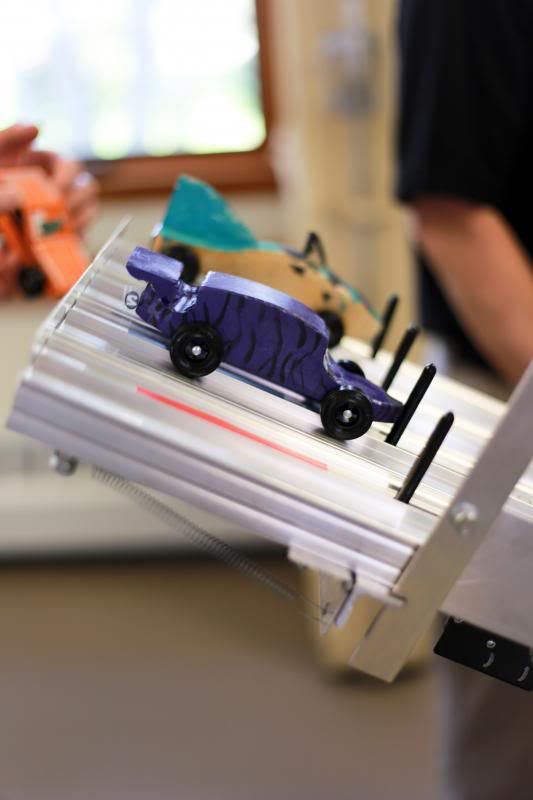 Purple Thunder gearing up for the race!
So not really sure what happened towards the award part. There was definitely some technical difficulties with the track so it messed up the results. It was fine though. I don't think the kids even really knew what was going on. They had contests for best looking car, most creative etc. Riley thought they called her number I guess and she tried to get the number. I yelled over to her telling her it wasn't her and I guess she got a bit embarrassed. Spent the rest of time crying and having a possible emotional breakdown! .......Even when they called her name for 3rd place! :( Poor baby!
She wouldn't even pose for the picture!
All better once we got home.
P.S ....Pay no attention to the hubby's "Driving shirt" I really need to throw that thing out! Haha